Portable Faceting Machine
Single Operate/ Single Lap/ Digital – Adjustable Speed
We are making a limited number of machines and lead time will be between 0 to 90 days for manufacturing, plus 4 to 10 days for shipping.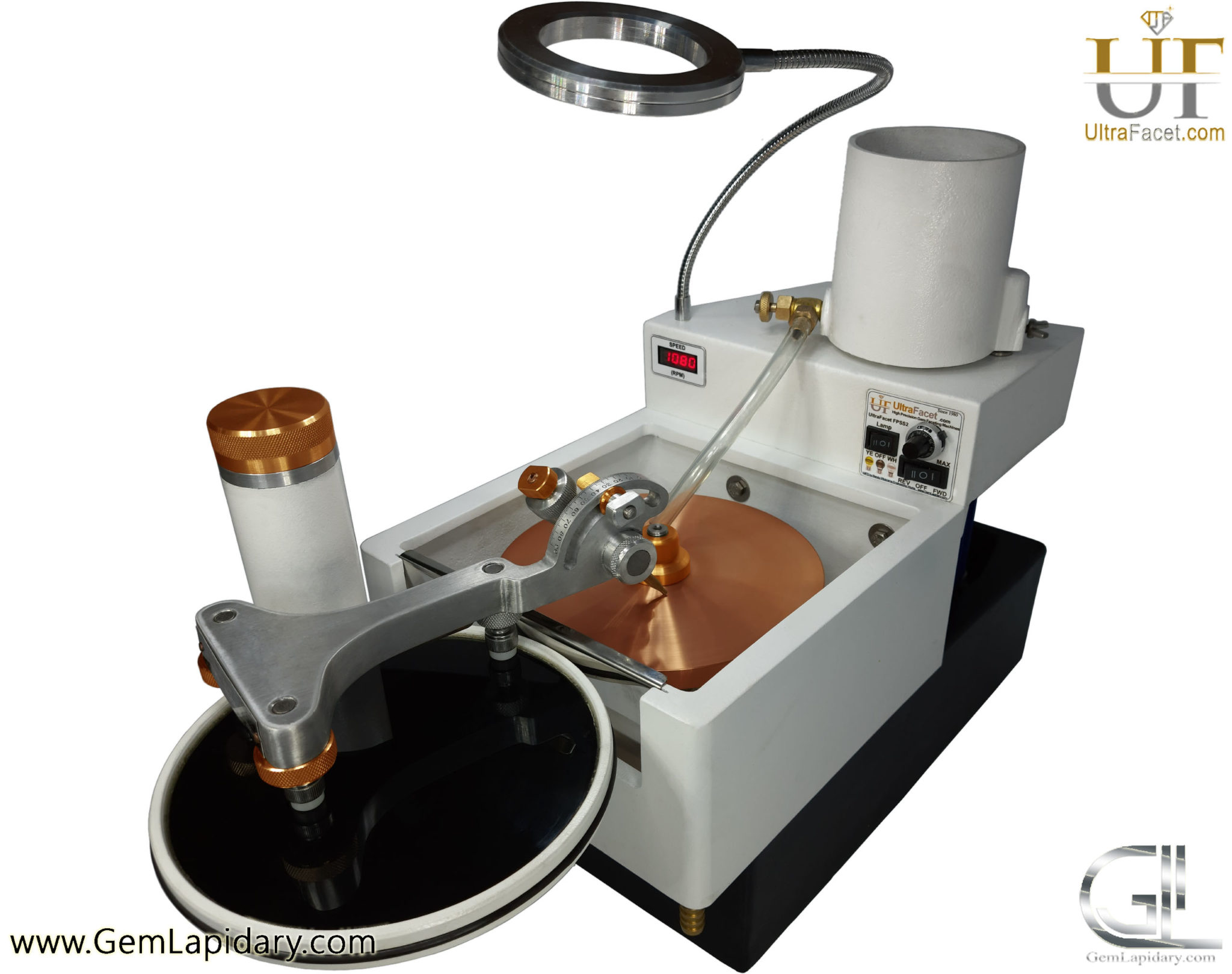 Description
• Variable Speed Digital Controller 20 RPM to 3000 RPM (Controlled by Knob).
• Build in Keypad – Easy to Start/ Stop, Change Direction.
• High Torque Powerful German Motor – Able to use hardly even at 50 RPM. • Powerful Built in LED Lamp – Flexible Neck, Bright Light.
• Stainless Steel (Type 304) Shaft & Parts – Heavy Use, Corrosion Free.
• Cast Aluminum Body – Light Weight, Resist to Corrosion.
• Professional Quality and Durable Design – Water Proof Axle, Vibration Free, Long Lasting, Heat Treated.
• Industrial Grade Powder Coating Layer – Long Lasting Finishing.
• Sealed Special Ball Bearings – Long Lasting, Accurate, Smooth Running.
• Multi-Tasking Design – Faceting, Polishing, and Pre-forming.
• User Friendly Design – Comes with one Axle for One Lap at a Time, Could Operate by 1 Person.
• Well Made Faceter Table- High Accurate, 3 Axis Movement.
• Vibration Absorb Dimensions and Weight – 61CM Length x 20CM Width x 30CM Height, 25Kg Weight.
Lapidary Packages
Lapidary Package 1
| | |
| --- | --- |
| Item | Qty |
| Diamond Disc 6″ 100 | 1 |
| Diamond Disc 6″ 260 | 1 |
| Diamond Disc 6″ 600 | 1 |
| Diamond Disc 6″ 1200 | 1 |
| Copper lap 6″ | 1 |
| Zinc Lap 6″ | 1 |
| Cast Iron Lap 6″ | 1 |
| Lucite Lap 6″ | 1 |
| Felt Lap 6″ | 1 |
| Diamond Powder 25ct | 2 |
| Wax Green (50g) | 2 |
| Wax Red (50g) | 2 |
| Dopping Lamp – Spirit | 1 |
| Tweezer – Titanium – Switzerland | 1 |
| Loupe | 1 |
| Caliper | 1 |
| Weight | 7kg |
Lapidary Package 2
| | |
| --- | --- |
| Item | Qty |
| Diamond Disc 8″ 100 | 1 |
| Diamond Disc 8″ 260 | 1 |
| Diamond Disc 8″ 600 | 1 |
| Diamond Disc 8″ 1200 | 1 |
| Copper lap 8″ | 1 |
| Zinc Lap 8″ | 1 |
| Cast Iron Lap 8″ | 1 |
| Lucite Lap 6″ | 1 |
| Felt Lap 8″ | 1 |
| Diamond Powder 0-2 25ct | 2 |
| Wax Green (50g) | 2 |
| Wax Red (50g) | 2 |
| Dopping Lamp – Spirit | 1 |
| Tweezer – Titanium – Switzerland | 1 |
| Loupe | 1 |
| Caliper | 1 |
| Weight | 12kg |
Lapidary Package 3
| | |
| --- | --- |
| Item | Qty |
| Index Wheel 96 | 1 |
| Index Wheel 80 | 1 |
| Index Wheel 72 | 1 |
| Transfer Jig | 1 |
| Charging Roll | 1 |
| Master lap 6″ | 1 |
| Diamond Disc 6″ 100 | 1 |
| Diamond Disc 6″ 180 | 2 |
| Diamond Disc 6″ 260 | 2 |
| Diamond Disc 6″ 380 | 2 |
| Diamond Disc 6″ 600 | 2 |
| Diamond Disc 6″ 800 | 2 |
| Diamond Disc 6″ 1200 | 2 |
| Copper lap 6″ | 1 |
| Zinc Lap 6″ | 1 |
| Cast Iron Lap 6″ | 1 |
| Lucite Lap 6″ | 1 |
| Felt Lap 6″ | 1 |
| Diamond Powder 0-2 25ct | 2 |
| Dopstick Brass 4.5mm flat | 1 |
| Dopstick Brass 6mm flat | 1 |
| Dopstick Brass 8mm Flat | 1 |
| Dopstick Brass 10mm flat | 1 |
| Leg Balancer | 1 |
| Wax Green (50g) | 4 |
| Wax Red (50g) | 4 |
| Dopping Lamp – Spirit | 1 |
| Tweezer – Titanium – Switzerland | 1 |
| Loupe | 1 |
| Caliper | 1 |
| Weight | 11kg |
Lapidary Package 4
| | |
| --- | --- |
| Item | Qty |
| Index Wheel 96 | 1 |
| Index Wheel 80 | 1 |
| Index Wheel 72 | 1 |
| Transfer Jig | 1 |
| Charging Roll | 1 |
| Master lap 8″ | 1 |
| Diamond Disc 8″ 100 | 1 |
| Diamond Disc 8″ 180 | 2 |
| Diamond Disc 8″ 260 | 2 |
| Diamond Disc 8″ 380 | 2 |
| Diamond Disc 8″ 600 | 2 |
| Diamond Disc 8″ 800 | 2 |
| Diamond Disc 8″ 1200 | 2 |
| Copper lap 8″ | 1 |
| Zinc Lap 8″ – Normal | 1 |
| Cast Iron Lap 8″ | 1 |
| Lucite Lap 6″ | 1 |
| Felt Lap 8″ | 1 |
| Diamond Powder 0-2 25ct | 2 |
| Dopstick Brass 4.5mm flat | 1 |
| Dopstick Brass 6mm flat | 1 |
| Dopstick Brass 8mm Flat | 1 |
| Dopstick Brass 10mm flat | 1 |
| Leg Balancer | 1 |
| Wax Green (50g) | 4 |
| Wax Red (50g) | 4 |
| Dopping Lamp – Spirit | 1 |
| Tweezer – Titanium – Switzerland | 1 |
| Loupe | 1 |
| Caliper | 1 |
| Weight | 17kg |
Lapidary Package 5
| | |
| --- | --- |
| Item | Qty |
| Index Wheel 96 | 1 |
| Index Wheel 80 | 1 |
| Index Wheel 72 | 1 |
| Transfer Jig | 1 |
| Charging Roll | 1 |
| Master lap 6″ | 2 |
| Diamond Disc 6″ 100 | 2 |
| Diamond Disc 6″ 180 | 3 |
| Diamond Disc 6″ 260 | 3 |
| Diamond Disc 6″ 380 | 3 |
| Diamond Disc 6″ 600 | 3 |
| Diamond Disc 6″ 800 | 3 |
| Diamond Disc 6″ 1200 | 3 |
| Copper lap 6″ | 2 |
| Tin Lap 6″ Quality | 2 |
| Zinc Lap 6″ | 2 |
| Cast Iron Lap 6″ | 2 |
| Lucite Lap 6″ | 2 |
| Felt Lap 6″ | 2 |
| Diamond Powder 0-2 25ct | 4 |
| Dopstick Brass Set (17 Dopsticks Flat/Cone/V) | 1 |
| Leg Balancer | 1 |
| Dopstick Stand | 1 |
| Wax Green (50g) | 6 |
| Wax Red (50g) | 6 |
| Dopping Lamp – Spirit | 1 |
| Tweezer – Q1 | 1 |
| Tweezer – Q2 | 1 |
| Torch – Recargeble | 1 |
| Torch – Penlight | 1 |
| Pocket Scale (300g) | 1 |
| Head Magnifying Glass | 1 |
| Loupe 25mm 40x | 1 |
| Loupe 18mm 10x – USA | 1 |
| Loupe 22mm 10x – USA | 1 |
| Caliper Digital 100mm | 1 |
| Thickness Gauge – German 20mm | 1 |
| Weight | 23kg |
Lapidary Package 6
| | |
| --- | --- |
| Item | Qty |
| Index Wheel 96 | 1 |
| Index Wheel 80 | 1 |
| Index Wheel 72 | 1 |
| Transfer Jig | 1 |
| Charging Roll | 1 |
| Master lap 8″ | 2 |
| Diamond Disc 8″ 100 | 2 |
| Diamond Disc 8″ 180 | 3 |
| Diamond Disc 8″ 260 | 3 |
| Diamond Disc 8″ 380 | 3 |
| Diamond Disc 8″ 600 | 3 |
| Diamond Disc 8″ 800 | 3 |
| Diamond Disc 8″ 1200 | 3 |
| Copper lap 8″ | 2 |
| Zinc Lap 8″ – Heavy | 2 |
| Cast Iron Lap 8″ | 2 |
| Tin Lap 8″ Quality | 2 |
| Lucite Lap 6″ | 2 |
| Felt Lap 8″ | 2 |
| Diamond Powder 0-2 25ct | 4 |
| Dopstick Brass Set (17 Dopsticks Flat/Cone/V) | 1 |
| Leg Balancer | 1 |
| Dopstick Stand | 1 |
| Wax Green (50g) | 6 |
| Wax Red (50g) | 6 |
| Dopping Lamp – Spirit | 1 |
| Tweezer Q1 | 1 |
| Tweezer Q2 | 1 |
| Torch – Recargeble | 1 |
| Torch – Penlight | 1 |
| Pocket Scale (300g) | 1 |
| Head Magnifying Glass | 1 |
| Loupe 25mm 40x | 1 |
| Loupe 18mm 10x – USA | 1 |
| Loupe 22mm 10x – USA | 1 |
| Caliper Digital 100mm | 1 |
| Thickness Gauge – German 20mm | 1 |
| Weight | 40kg |
Lapidary Package 7
| | |
| --- | --- |
| Item | Qty |
| Index Wheel 96 | 1 |
| Index Wheel 80 | 1 |
| Index Wheel 72 | 1 |
| Transfer Jig | 1 |
| Charging Roll | 1 |
| Master lap 8″ | 2 |
| Diamond Disc 8″ 100 | 2 |
| Diamond Disc 8″ 180 | 3 |
| Diamond Disc 8″ 260 | 3 |
| Diamond Disc 8″ 380 | 3 |
| Diamond Disc 8″ 600 | 3 |
| Diamond Disc 8″ 800 | 3 |
| Diamond Disc 8″ 1200 | 3 |
| Copper lap 8″ | 2 |
| Zinc Lap 8″ – Heavy | 2 |
| Cast Iron Lap 8″ | 2 |
| Tin Lap 8″ Quality | 2 |
| Lucite Lap 6″ | 2 |
| Felt Lap 8″ | 2 |
| Diamond Powder 0-2 25ct | 4 |
| Dopstick Brass Set (17 Dopsticks Flat/Cone/V) | 11 |
| Leg Balancer | 1 |
| Dopstick Stand | 1 |
| Wax Green (50g) | 6 |
| Wax Red (50g) | 6 |
| Dopping Lamp – Spirit | 1 |
| Tweezer Q1 | 1 |
| Tweezer Q2 | 1 |
| Torch – Recargeble | 1 |
| Torch – Penlight | 1 |
| Digital ct scale (100g) | 1 |
| Pocket Scale (300g) | 1 |
| Head Magnifying Glass | 1 |
| Loupe 25mm 40x | 1 |
| Loupe 18mm 10x – USA | 1 |
| Loupe 22mm 10x – USA | 1 |
| Caliper Digital 100mm | 1 |
| Thickness Gauge – German 20mm | 1 |
| Weight | 44kg |