Portable Faceting Machine
Single Operate/ Single Lap/ Full Touch – Adjustable Speed
To calculate the shipping cost please select the zone related to your country from the list that given bottom of the page.
Shipping cost calculated for DHL EXPRESS – Air Freight – door to door shipping. No need to go to the airport or any other location for pick up.
We are making a limited number of machines and lead time will be between 0 to 90 days for manufacturing, plus 4 to 10 days for shipping.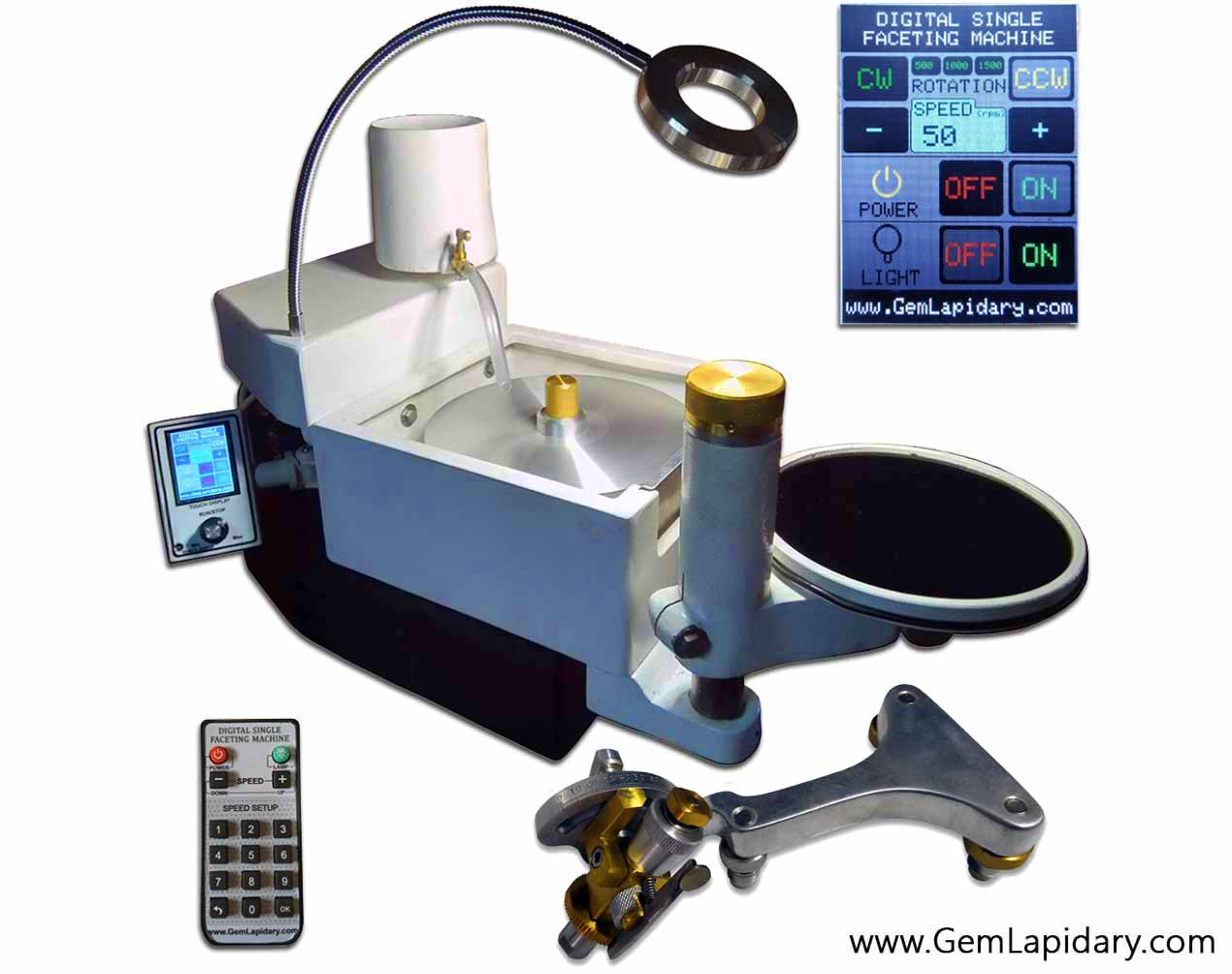 Note: Optional speed controller (same controller fix on Digital faceting Machine) will supply free of charge for limited time. It will work without touch system and could run the machine even touch system broken.
Description
• Variable Speed Digital Controller – 50 to 3000 RPM (Control by Touch Screen/ Remote/ Rotate Switch).
• Full Touch Screen – Easy to Set speed, Control Speed, direction, and LED lamp.
• Remote Control – Quick remote access to Set speed, Control Speed, direction, and lamp.
• High Torque Powerful Japanese Motor – Able to use hardly even at 50 RPM.
• Powerful Built in LED Lamp – Touch, Flexible Neck, White/ OFF white Bright Light.
• Stainless Steel (Type 304) Shaft & Parts – Heavy Use, Corrosion Free.
• Cast Aluminum Body – Light Weight, Resist to Corrosion.
• Professional Quality and Durable Design – Water Proof Axle, Vibration Free, Long Lasting, Heat Treated.
• Industrial Grade Powder Coating Layer – Long Lasting Finishing.
• Sealed Special Ball Bearings – Long Lasting, Accurate, Smooth Running.
• Multi-Tasking Design – Faceting, Polishing, and Pre-forming.
• User Friendly Design – Comes with one Axle for One Lap at a Time, Could Operate by 1 Person.
• Well Made Faceter Table – High Accurate, 3 Axis Movement.
• Vibration Absorb Dimensions and Weight – 61CM Length x 20CM Width x 30CM Height, 27Kg Weight.
Lapidary Packages
Lapidary Package 1
| | |
| --- | --- |
| Item | Qty |
| Diamond Disc 6″ 100 | 1 |
| Diamond Disc 6″ 260 | 1 |
| Diamond Disc 6″ 600 | 1 |
| Diamond Disc 6″ 1200 | 1 |
| Copper lap 6″ | 1 |
| Zinc Lap 6″ | 1 |
| Cast Iron Lap 6″ | 1 |
| Lucite Lap 6″ | 1 |
| Felt Lap 6″ | 1 |
| Diamond Powder 25ct | 2 |
| Wax Green (50g) | 2 |
| Wax Red (50g) | 2 |
| Dopping Lamp – Spirit | 1 |
| Tweezer – Titanium – Switzerland | 1 |
| Loupe | 1 |
| Caliper | 1 |
| Weight | 7kg |
Lapidary Package 2
| | |
| --- | --- |
| Item | Qty |
| Diamond Disc 8″ 100 | 1 |
| Diamond Disc 8″ 260 | 1 |
| Diamond Disc 8″ 600 | 1 |
| Diamond Disc 8″ 1200 | 1 |
| Copper lap 8″ | 1 |
| Zinc Lap 8″ | 1 |
| Cast Iron Lap 8″ | 1 |
| Lucite Lap 6″ | 1 |
| Felt Lap 8″ | 1 |
| Diamond Powder 0-2 25ct | 2 |
| Wax Green (50g) | 2 |
| Wax Red (50g) | 2 |
| Dopping Lamp – Spirit | 1 |
| Tweezer – Titanium – Switzerland | 1 |
| Loupe | 1 |
| Caliper | 1 |
| Weight | 12kg |
Lapidary Package 3
| | |
| --- | --- |
| Item | Qty |
| Index Wheel 96 | 1 |
| Index Wheel 80 | 1 |
| Index Wheel 72 | 1 |
| Transfer Jig | 1 |
| Charging Roll | 1 |
| Master lap 6″ | 1 |
| Diamond Disc 6″ 100 | 1 |
| Diamond Disc 6″ 180 | 2 |
| Diamond Disc 6″ 260 | 2 |
| Diamond Disc 6″ 380 | 2 |
| Diamond Disc 6″ 600 | 2 |
| Diamond Disc 6″ 800 | 2 |
| Diamond Disc 6″ 1200 | 2 |
| Copper lap 6″ | 1 |
| Zinc Lap 6″ | 1 |
| Cast Iron Lap 6″ | 1 |
| Lucite Lap 6″ | 1 |
| Felt Lap 6″ | 1 |
| Diamond Powder 0-2 25ct | 2 |
| Dopstick Brass 4.5mm flat | 1 |
| Dopstick Brass 6mm flat | 1 |
| Dopstick Brass 8mm Flat | 1 |
| Dopstick Brass 10mm flat | 1 |
| Leg Balancer | 1 |
| Wax Green (50g) | 4 |
| Wax Red (50g) | 4 |
| Dopping Lamp – Spirit | 1 |
| Tweezer – Titanium – Switzerland | 1 |
| Loupe | 1 |
| Caliper | 1 |
| Weight | 11kg |
Lapidary Package 4
| | |
| --- | --- |
| Item | Qty |
| Index Wheel 96 | 1 |
| Index Wheel 80 | 1 |
| Index Wheel 72 | 1 |
| Transfer Jig | 1 |
| Charging Roll | 1 |
| Master lap 8″ | 1 |
| Diamond Disc 8″ 100 | 1 |
| Diamond Disc 8″ 180 | 2 |
| Diamond Disc 8″ 260 | 2 |
| Diamond Disc 8″ 380 | 2 |
| Diamond Disc 8″ 600 | 2 |
| Diamond Disc 8″ 800 | 2 |
| Diamond Disc 8″ 1200 | 2 |
| Copper lap 8″ | 1 |
| Zinc Lap 8″ – Normal | 1 |
| Cast Iron Lap 8″ | 1 |
| Lucite Lap 6″ | 1 |
| Felt Lap 8″ | 1 |
| Diamond Powder 0-2 25ct | 2 |
| Dopstick Brass 4.5mm flat | 1 |
| Dopstick Brass 6mm flat | 1 |
| Dopstick Brass 8mm Flat | 1 |
| Dopstick Brass 10mm flat | 1 |
| Leg Balancer | 1 |
| Wax Green (50g) | 4 |
| Wax Red (50g) | 4 |
| Dopping Lamp – Spirit | 1 |
| Tweezer – Titanium – Switzerland | 1 |
| Loupe | 1 |
| Caliper | 1 |
| Weight | 17kg |
Lapidary Package 5
| | |
| --- | --- |
| Item | Qty |
| Index Wheel 96 | 1 |
| Index Wheel 80 | 1 |
| Index Wheel 72 | 1 |
| Transfer Jig | 1 |
| Charging Roll | 1 |
| Master lap 6″ | 2 |
| Diamond Disc 6″ 100 | 2 |
| Diamond Disc 6″ 180 | 3 |
| Diamond Disc 6″ 260 | 3 |
| Diamond Disc 6″ 380 | 3 |
| Diamond Disc 6″ 600 | 3 |
| Diamond Disc 6″ 800 | 3 |
| Diamond Disc 6″ 1200 | 3 |
| Copper lap 6″ | 2 |
| Tin Lap 6″ Quality | 2 |
| Zinc Lap 6″ | 2 |
| Cast Iron Lap 6″ | 2 |
| Lucite Lap 6″ | 2 |
| Felt Lap 6″ | 2 |
| Diamond Powder 0-2 25ct | 4 |
| Dopstick Brass Set (17 Dopsticks Flat/Cone/V) | 1 |
| Leg Balancer | 1 |
| Dopstick Stand | 1 |
| Wax Green (50g) | 6 |
| Wax Red (50g) | 6 |
| Dopping Lamp – Spirit | 1 |
| Tweezer – Q1 | 1 |
| Tweezer – Q2 | 1 |
| Torch – Recargeble | 1 |
| Torch – Penlight | 1 |
| Pocket Scale (300g) | 1 |
| Head Magnifying Glass | 1 |
| Loupe 25mm 40x | 1 |
| Loupe 18mm 10x – USA | 1 |
| Loupe 22mm 10x – USA | 1 |
| Caliper Digital 100mm | 1 |
| Thickness Gauge – German 20mm | 1 |
| Weight | 23kg |
Lapidary Package 6
| | |
| --- | --- |
| Item | Qty |
| Index Wheel 96 | 1 |
| Index Wheel 80 | 1 |
| Index Wheel 72 | 1 |
| Transfer Jig | 1 |
| Charging Roll | 1 |
| Master lap 8″ | 2 |
| Diamond Disc 8″ 100 | 2 |
| Diamond Disc 8″ 180 | 3 |
| Diamond Disc 8″ 260 | 3 |
| Diamond Disc 8″ 380 | 3 |
| Diamond Disc 8″ 600 | 3 |
| Diamond Disc 8″ 800 | 3 |
| Diamond Disc 8″ 1200 | 3 |
| Copper lap 8″ | 2 |
| Zinc Lap 8″ – Heavy | 2 |
| Cast Iron Lap 8″ | 2 |
| Tin Lap 8″ Quality | 2 |
| Lucite Lap 6″ | 2 |
| Felt Lap 8″ | 2 |
| Diamond Powder 0-2 25ct | 4 |
| Dopstick Brass Set (17 Dopsticks Flat/Cone/V) | 1 |
| Leg Balancer | 1 |
| Dopstick Stand | 1 |
| Wax Green (50g) | 6 |
| Wax Red (50g) | 6 |
| Dopping Lamp – Spirit | 1 |
| Tweezer Q1 | 1 |
| Tweezer Q2 | 1 |
| Torch – Recargeble | 1 |
| Torch – Penlight | 1 |
| Pocket Scale (300g) | 1 |
| Head Magnifying Glass | 1 |
| Loupe 25mm 40x | 1 |
| Loupe 18mm 10x – USA | 1 |
| Loupe 22mm 10x – USA | 1 |
| Caliper Digital 100mm | 1 |
| Thickness Gauge – German 20mm | 1 |
| Weight | 40kg |
Lapidary Package 7
| | |
| --- | --- |
| Item | Qty |
| Index Wheel 96 | 1 |
| Index Wheel 80 | 1 |
| Index Wheel 72 | 1 |
| Transfer Jig | 1 |
| Charging Roll | 1 |
| Master lap 8″ | 2 |
| Diamond Disc 8″ 100 | 2 |
| Diamond Disc 8″ 180 | 3 |
| Diamond Disc 8″ 260 | 3 |
| Diamond Disc 8″ 380 | 3 |
| Diamond Disc 8″ 600 | 3 |
| Diamond Disc 8″ 800 | 3 |
| Diamond Disc 8″ 1200 | 3 |
| Copper lap 8″ | 2 |
| Zinc Lap 8″ – Heavy | 2 |
| Cast Iron Lap 8″ | 2 |
| Tin Lap 8″ Quality | 2 |
| Lucite Lap 6″ | 2 |
| Felt Lap 8″ | 2 |
| Diamond Powder 0-2 25ct | 4 |
| Dopstick Brass Set (17 Dopsticks Flat/Cone/V) | 11 |
| Leg Balancer | 1 |
| Dopstick Stand | 1 |
| Wax Green (50g) | 6 |
| Wax Red (50g) | 6 |
| Dopping Lamp – Spirit | 1 |
| Tweezer Q1 | 1 |
| Tweezer Q2 | 1 |
| Torch – Recargeble | 1 |
| Torch – Penlight | 1 |
| Digital ct scale (100g) | 1 |
| Pocket Scale (300g) | 1 |
| Head Magnifying Glass | 1 |
| Loupe 25mm 40x | 1 |
| Loupe 18mm 10x – USA | 1 |
| Loupe 22mm 10x – USA | 1 |
| Caliper Digital 100mm | 1 |
| Thickness Gauge – German 20mm | 1 |
| Weight | 44kg |